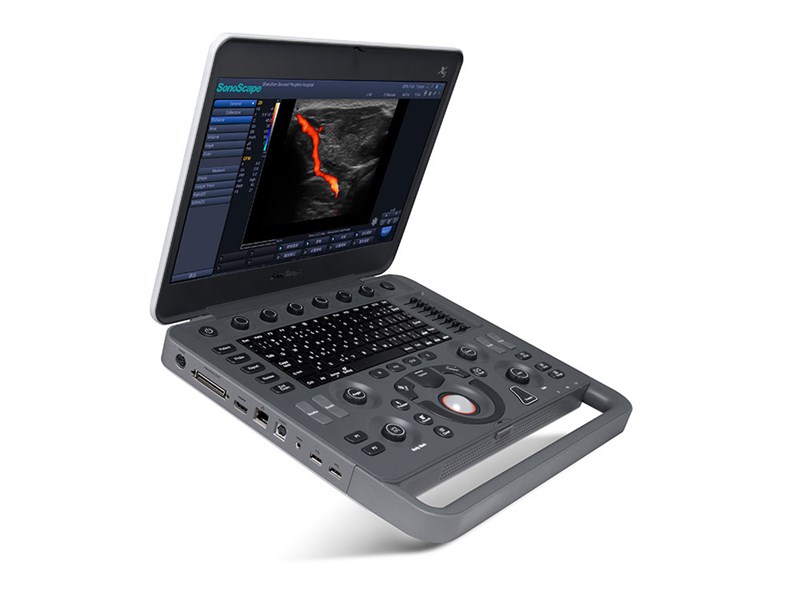 Our latest 'laptop' portable ultrasound scanner, the X5, has colour doppler and pulse wave doppler with excellent image quality for a wide range of diagnostic applications, where portability is key. A light-weight, ultra-slim high-end scanner with user friendly controls. Great ergonomics for very efficient scanning, swift workflow and easy management of patient examinations. The X5 has comprehensive connectivity for seamless image transfer and data management. A range of options including 3 probe port and height adjustable trolley further enhance usability.
Linear L741 - MSK/Small parts/Vascular (4-16 MHz)
Linear 10I2 'Hockey stick' - MSK/Small parts (4-16 MHz)
Curve Linear 3C-A - General abdominal/Obstetrics and Gyn (1-7 MHz)
Phased Array – sector 3P-A - Cardiac/Transcranial (1-6 MHz)
Endocavity EC9-5 - Gyn/Obstetrics/Urology (3-15 MHz)
15.6" High Resolution LED Screen with anti-flicker & auto-adaptive LED backlight.
Auto-optimisation - enhance your images with one button
u-Scan 2D speckle reduction technology
extended convex imaging
2D Panoramic imaging
Auto IMT
Vis Needle – needle visualisation
Duplex and Triplex modes
CW and Colour M-mode options
WiFi and ECG options
Built-in battery
Quantification and Analysis tools
USB ports and DICOM connectivity
Single active probe port – extender to 3 ports
500GB hard drive
3.9kg
Durable Carry-Travel bag/back pack
Lightweight compact height adjustable trolley cart
Weighs less than 4kgs
Slim design – 5cm
Multi-beam processing technology – delivering crisp, clear images
µ-Scan – speckle reduction and edge enhancement
Spatial compound imaging
PIH – pure inversion harmonic imaging
Wide Scan – enlarge image area
Colour doppler
C-field beam
Chroma – highlight image details
B Steer for linear probe
Quick boot up
Auto brightness adjustment
Auto image optimisation
Auto IMT
Auto Trace
6 inch anti-flickering HD LCD screen, with anti-reflection technology
Wide folding range and viewing angle
Extended connector for up to 3 probes
Backlit keyboard and intelligent panel
Long lasting battery – approximately 90 minutes
2 year warranty of scanner and probes
Accessories:
WiFi and Bluetooth
DICOM 3.0
500GB Hard disc
Height adjustable trolley
Battery extender for up to 3 hours use
Training and CPD
All purchases come with in depth training, and ongoing support to ensure you get the best results from your SonoScape scanner. Required pre-sets will be programmed at install and additional CPD is available on a one-to-one or group basis. 
Servicing
All our scanners require regular servicing, our dedicated team of engineers are able to service units at a time convenient for you to ensure your machine remains in top condition. 
Free Demonstration
Celtic SMR is offering free demonstrations of the SonoScape X5 so please call us on 0800 279 9050 to find out more.