ASA Class IV Laser - MLS Orange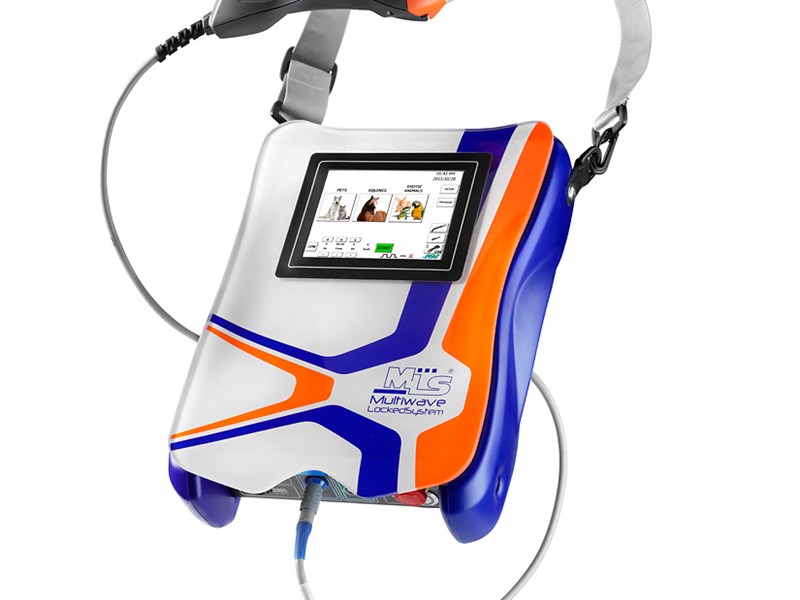 MLS Class 4 laser therapy is used extensively in veterinary practice to treat a wide range of inflammatory and painful conditions, as well as to stimulate wound healing in companion animals and exotics.
Lasers are seen as an effective alternative to NSAIDs, reducing pain and inflammation quickly, by significantly decreasing COX 2 inflammatory mediators, stimulating tissue perfusion and metabolism. The clinical benefits of MLS Class 4 Laser therapy are quickly seen in patients and recognised by owners.
Laser therapy provides the opportunity for the nursing team to interact more with patients, building client loyalty and practice revenue. 
Full training and continued support is offered with each purchase to maximise use and to get the best clinical outcomes for your practice.
Osteoarthritis
Gingivitis
Otitis externa
Sprains/strains
Fractures
Cystitis/visceral pain and inflammation
Anal gland sacculitis
Wounds
Post-op dental treatment
Superficial dermatitis
Many clients prefer MLS Class 4 laser therapy: to treat their pets as there are no side effects, and the clinical benefits are quickly seen for a wide range of inflammatory and painful conditions.
MLS – the safest Class 4 laser system: The unique pulsed and continuous synchronised wavelengths (808nm continuous and 905nm pulsed) produce a peak power of 75W, ensuring deeper tissues receive the maximum therapeutic effect, whilst allowing heat to dissipate between pulses, so superficial tissues do not overheat.
Increased client loyalty: increased contact between patients, clients and the clinical team during treatment, increases client loyalty and repeat business for the practice.
Income Generation: MLS Class 4 laser therapy represents additional revenue streams for the practice with rapid return on investment.
Training: Full after sales, hands on training provided by veterinary physiotherapists, combined with certified interactive online CPD, ensures your practice gets the most benefit from the MLS laser system.
ASA Laser: ASA are the largest manufacturer of veterinary laser with over 2000 installations globally. ASA have extensive research facilities and published peer reviewed papers.
3 week trial: The MLS laser system is available for a 3 week, no obligation trial – so call Celtic SMR to see the therapeutic benefits Class 4 laser therapy can bring your practice.

"We have been using the MLS laser from Celtic SMR in our clinic for a couple of years now. We have mainly used it to aid the treatment of musculoskeletal conditions such as osteoarthritis, back pain and ACL injuries. The most visible and dramatic results have come where we have used the laser to treat non-healing or slow healing open wounds. A dog had an ulcer on a pad for over 4 months, resisting all attempts to get it to heal. After three sessions with the MLS laser, the pad was healed.
We have had clients from other practices seek us out in order to receive treatment, and almost all clients who have started their pets on the treatment are very happy to keep booking repeat appointments. Over time this is likely to create an accumulating mass of business."
Carl Gorman BVSc MRCVS, Veterinary Surgeon, Falkland Veterinary Surgery

"We purchased our ASA laser from Celtic SMR over 18 months ago and have been amazed at the results we have had, in particular when treating wounds and as an aid to speeding up fracture healing. Our clients have also been very impressed with the results and, as they can see the improvement for themselves, are more than happy to come back for repeat treatments when required. The after sales support from Celtic SMR has also been excellent."
Miss Sarah Goodsall BVSc MRCVS, Practice Director, Oakville Veterinary Surgery

"Since we have purchased the MLS Laser from Celtic SMR we have seen excellent results in a range of conditions, with over 90% of patients seeing a substantial improvement. The equipment is easy to use, with the standard protocols being very effective. Celtic SMR have been extremely helpful with both the theory, allowing us to sell the service to clients, and practical training."
Jay Lisher, RVN, Coastway Vets Brighton
"Over the years my 13 year old dog Max has become very lame with arthritis. Unfortunately he has developed problems with his back & right shoulder and had become very lame. We had started to wonder if we were being fair to keep him going when he was clearly not enjoying life.
The day after Max's first treatment, much to our surprise, the lameness in his right shoulder had gone. We and the family are so impressed with the results of these sessions & can't quite believe how much Max is enjoying his life & his walks again. We are delighted that we can give Max a happy, comfortable old age."
Robert Baker, Owner of Max
"We have twin collie/spaniel crosses who, at 10 years old, now both seemed to suffer from mobility issues. Sarah's issues were general – front leg, shoulder, both hips and knees. I was told about the new laser clinic at Coastway vets and went to enquire whether that could benefit Sarah.
We started with twice weekly treatments of around 45 minutes each session. The difference in her mobility was noticeable after the second session. After the first couple of treatments she was more fluid in movement, her shoulder was more balanced, she was not walking flat footed and her hips had a slight wiggle again. We are now down to reduced frequency sessions and the improvement continues. Her neck is freer, her shoulder almost back to normal, her hips and knees no longer make loud creaking noises when they move. I would thoroughly recommend this form of treatment as being an efficient, professional and affordable therapy."
Dr Les Ellam, Owner of Sarah

"The addition of laser clinics within our practice has been met with much enthusiasm from our clients. The ease of use, coupled with fantastic hands on training and support from Celtic SMR has meant that the clinics have been easy to set up and run. Both clients and staff are amazed at the results! It has made a great difference to many families who can see a significant difference in the well being of their beloved pet!"
Dr Chris Vogt BSc BVSc MRCVS, Practice Director Polsloe Veterinary Clinic and Cranbrook Veterinary Centre

"The MLS laser is a unique, easy to use system. The key feature is that I can address the individual needs (e.g. pain relief and/or anti-inflammatory effects) of each patient by varying the frequency and mode of application of the MLS laser unit. By making the patient central, the MLS laser system enhances my ability and that of my practice to treat patients. In combination with this, Celtic SMR was a natural choice in choosing a laser system supplier because of the high level of customer care and technical support''
Dr Shahad Mohammed (PhD), Veterinary Physiotherapist, WitsEnd. Executive member NAVP

''We have been using our laser on arthritic dogs for a few months now. The results have all been excellent, we can see the change in our patients and owners are giving great feedback. The unit is very easy to use and feels nice and robust.''
Dr Mark Collins BVSC MRCVS

''My 17 year old cat Jasmine has suffered from arthritis in her hips, shoulders and elbows for several years now. It had come to a point where I was questioning her quality of life as although she was on long term NSAID's and joint supplements she was getting increasingly more lame. She would struggle to jump up onto furniture and to get down the stairs. Fernando started using Laser Therapy on her and after about 4 weeks I have already noticed a difference. Jasmine seems much more comfortable coming down the stairs and jumping up onto the sofa is no problem now. I have also managed to decrease the amount of medication which I have to give her which is only a good thing considering her age. During the actual therapy sessions jasmine is relaxed and sometimes falls asleep, as a usually nervous cat I can only assume that she feels some immediate relief and calmly waits for the session to finish.
I am very glad that this option was available as it has improved Jasmines quality of life and mine.''
Catherine Lamb, RVN, Senior Nurse

''Since the launch of our new wellness centre, our patients have had access to a range of fantastic complimentary treatment alternatives to conventional medication. One of these alternatives is our Laser from Celtic SMR. We have had amazing results so far and the clients are keen to come back knowing that the wellbeing of their beloved pet is greatly improved. The laser is used in every aspect of our practice, from rehabilitation after orthopaedic surgery and musculoskeletal issues such as osteoarthritis, to routine spay and castration wounds, providing fantastic pain alleviation and accelerated healing time.
The customer service from Celtic SMR is second to none, any queries are answered in a confident and timely manner. The laser is now an integral piece of equipment within our practice and will continue to improve the lives of many patients. I would recommend it to anyone.''
Louisa Hibbard, RVN

''Helen has had a great response from clients whom she has used her ASA MLS Laser on, from arthritic patients to patients with acute muscle/tendon injuries, but did you know that the laser has so many other uses!! Here is a post from ASA themselves about the use of laser treatment in gingivitis/stomatitis patients. It is also used in the aid of helping wounds to heal. A very clever piece of equipment!!
And because Helen is so passionate, not only about her practice and ensuring the best care is available to your pets, but about learning new advances within the veterinary field, she is able to offer this type of treatment when there are not many practices locally offering this.''
Helen Russel, RVN and JVP
Handpiece with optical group composed of one MLS® source with power up to 1.1 W - Peak Power 25 W
Target Area Ø 2 cm highlighted by high-efficiency red light LEDs
Colour touch screen display
Simultaneous management of two independent channels
20 pre-set programs for Dogs and Cats
41 pre-set programs for Exotics (Reptiles, Birds and Mammals)
Program section for Laser acupuncture
Program section for intraoral pathologies
Possibility to customize every treatment parameter
Personal area to save custom protocols
MLS® modulation in CPW or FPW mode (Synchronised emission of Continuous Pulsed Waves or Frequenced Pulsed Waves)
Modulation frequency from 1 to 2000 Hz with 1 Hz steps
Power level 25%, 50%, 75% and 100%
Fixed duty cycle at 50% or variable
Treatment duration from 1" to 99'59" with 1" steps
Automatic calculation of the emitted energy according to the settled parameters
Alarms and Safety Features
Laser emission warning light
Interlock
Acoustic signal selectable by operator
Date and time
Password to operate the device
Language option
Ready to be connected to the remote Laser emission signaling device
Included Accessories
N° 2 Laser Safety Goggles
Unit carrying case
Table handpiece holder
Shoulder strap for portable use
Laser puncture kit
Size and Weight
Power Supply
Lithium polymer battery
External power supply 18Vdc 50VA
Optional Accessories
Trolley-Unit carrying
Multidiode applicator Charlie Orange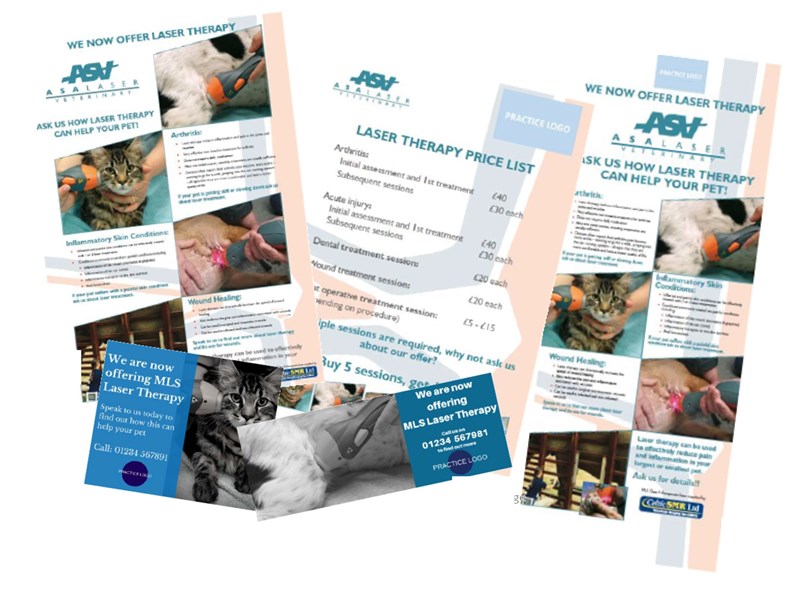 Laser Marketing Packs
With each laser purchase we provide you with a marketing pack to help you reach your clients. This includes:
Personalised dog and cat leaflets
A poster
Social media assets
A waiting room video
A personalised pull up banner
Artwork for a personalised price list 
Training and CPD
All purchases come with in depth training, and ongoing support to ensure you get the best results from your ASA laser. We also provide online laser CPD, and have a dedicated Facebook group for discussing cases.
Servicing
All our lasers require regular servicing, our dedicated team of engineers are able to service units at a time convenient for you to ensure your machine remains in top condition. 
Free Trial
Celtic SMR is offering free demonstrations and trials of the ASA Laser so please call us on 0800 279 9050 to find out more.