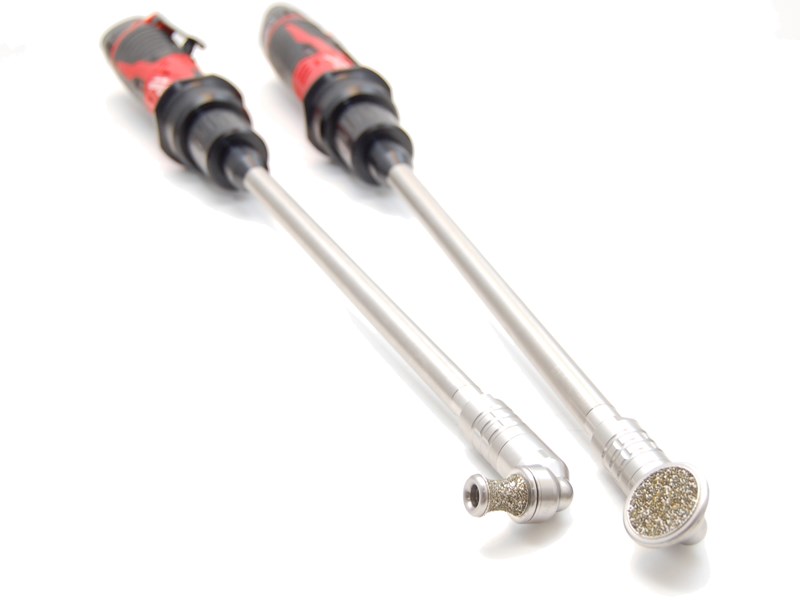 Light weight, battery powered dental float, with a flexible shaft, a rotating head, and interchangeable discs or burrs. It is water resistant, maintenance free, durable and affordable, built on 15 years of experience with Swiss engineering.
Motor: cordless with variable speed; powerful Lithium batteries. New trigger lock: Terafloat uses a 12V Milwaukee motor with a variable speed trigger. The motor features an electronic shut-off protection when the grinding disk is blocked. The instrument is light weight, balanced, and designed to be used with one hand. The free hand may help in guiding the instrument.
The motor is fitted with M12 Li-ion batteries, (2.0Ah or 4.0Ah), and it has a LED light indicator for the remaining charge of the batteries. The battery charger has a plug that fits into a regular 120V wall plug as well as into a 12V cigarette lighter of a car.
Shaft: built-in LED light, Turnflex joint mechanism: The shaft is light weight with three built-in LED lights to illuminate the horse's mouth during floating. The light stays on for five seconds after the trigger has been released to further examine the oral cavity. The shaft has a patent pending turnflex mechanism that allows the shaft to be straight or, with a twist of your finger, to be changed to a 6 degree angle.
Head: water resistant, maintenance free, rotates: The head is easily changed and is attached to the shaft in a way that allows it to be rotated in 90 degree increments. The grinding disks can easily be interchanged. Several grinding disks or burrs are available. The head is water resistant and maintenance free. No lubrication is needed.
Grinding disc and burrs: Different grinding disks and burrs are available: A coarse diamond disc (with a smooth border = T2 for use without the disc guard; or without the round border when used with the disc guard = T3), a medium  apple core burr, a long apple core burr, a large cylindrical burr and a short and a long cylindrical diastema burr.  These discs or burrs are easily changed. All grinding disks are diamond coated and made in Switzerland.


All our units require regular servicing, our dedicated team of engineers are able to service units at a time convenient for you to ensure your machine remains in top condition.